Significance
The Australian Capital Territory (ACT) is the only part of Australia born of the Australian Constitution.
Section 125 of the Constitution
provides not only for the creation of the seat of government, but for its general location and minimum size.
As a constitutional rather than a geographic unit, the boundaries of the ACT depend on powers the Constitution provides, or the States grant.
Section 122 of the Constitution
provides for the government of the ACT, along with any other territories. But the constitutional development of the ACT is quite different from all the other territories as it is the only 'footprint' of land the Constitution specifically granted the new national government.
History
Section 125 was added to the Constitution Bill at a meeting of premiers early in 1899 after the first constitutional referendum was defeated in New South Wales. Their agreement to locate the seat of government in New South Wales was a compromise that helped secure Federation.
Immediately after the
Commonwealth of Australia Constitution Act
became law on 9 July 1900, when Queen Victoria signed the
Commission of Assent
, proposals for siting the capital accelerated. As Section 125 provided that the new parliament would sit in Melbourne, until its permanent home was ready, the New South Wales government was particularly keen to set the process in train. They appointed Alexander Oliver to report on proposed sites; and in October 1900 he recommended sites in three areas, Bombala, Orange and Yass.
Constitutional provision for a location in New South Wales but at least 100 miles from Sydney meant a very un-federal struggle for the next nine years. Sydney interests pressed for a site as close as possible to the 100-mile peg, while Victorian interests lobbied for a site as far as possible from it. The site finally chosen was specified in the
Seat of Government Act 1908
.
For more information about the Australian Constitution, see
History
in the Commonwealth section of this site.
Description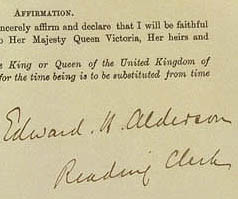 Detail from Commonwealth of Australia Constitution Act 1900 (UK)
| | |
| --- | --- |
| Long Title: | An Act to constitute the Commonwealth of Australia 1900 (63 & 64 Vic. C.12) |
| No. of pages: | 25 + cover |
| Medium: | Parchment, red silk ribbon |
| Measurements: | 31.8 x 19.8 cm |
| Provenance: | This document originated in the British Parliament and was in the custody of the National Archives of the United Kingdom until it was loaned to Australia in 1988; in 1990 the British government made a gift of the document to the Australian people |
| Features: | The red silk ribbon tie of the British Parliament |
| Location & Copyright: | Parliament House Canberra |
| Reference: | None |